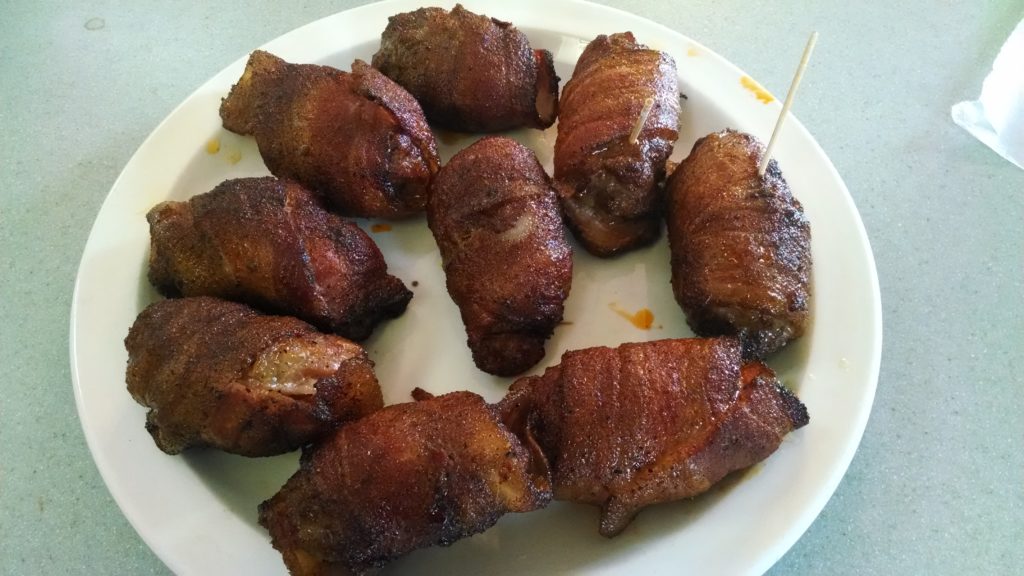 If you like bacon, you have probably heard of the bacon fatty. Sometimes call the bacon explosion, bacon bomb or other such names. It is basically a bacon weave wrapped around sausage which is stuffed with something in the middle and then bbq'd or smoked.
I wanted to experiment with that concept but make something a little smaller. Something a little less complicated and maybe even easier to eat. Someone probably has already done this but I haven't.
I started out by slicing up mushrooms and onions and threw them in a pan with olive oil to start browning. I kicked it up a notch by adding some salt, garlic and balsamic vinegar. I let all that saute that until it browned and the balsamic started sticking. While that was cooking, I shredded some carrots and set them aside for later.
Now that my filling was ready to go, it was time t
o get the sausage ready. I took 1 pound of sausage, divided it into 9 chunks and then flattened them all out so that the filling could go right on top.
After the filling was done and the sausage was lined up, I proceeded to put the mushroom mixture into the middle of each sausage patty along with some of the shredded carrots. I didn't cook the carrots because I wanted a little bit of crunch and texture in the middle of this thing.
After that was assembled, I rolled up the sausage with the filling hidden away inside. I ended up having too much filling in most of them and had to take some out as I tried to roll them up.
Once rolled up I wrapped each one with a slice of bacon. The bacon I used was a sweeter bacon that had a pepper crust. It was from one of my homemade batches that I cold smoked and I knew this would add some extra smokey flavor (note, 2 pieces were from my jalapeno cilantro batch of bacon which is why you'll see some green tinge to those pieces in the pictures). Sprinkle on some seasoning and you are ready to smoke your fatty.
I smoked these bad boys at 250° for around 60 minutes.
After letting them rest for a few minutes I tore right into one. OMG, these things are out amazing!
Summary:
Cooked Filling
Mushrooms
Onions
Garlic
Balsamic
Salt
Uncooked Filling
The Rest
1 # sausage dived into 9 patties
9 slices of bacon
Some kind of bbq rub (I used a rub that I normally use for pulled pork that is based on one called Memphis Dust)
Cooking
Smoke at 250° for about 60 minutes
Verdict