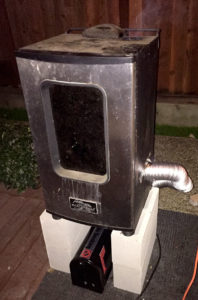 3 years ago I decided I wanted to dive into smoking meat. I loved eating brisket and pulled pork but living in Oregon at the time it was hard to find really good smoked meat. I could make some great BBQ on my Weber, but that just wasn't the same.
I also knew I didn't have hours on end to tend to a fire and control the temp. So, I set out to buy an electric smoker with a thermostat. I settled on the Masterbuilt Electric Smoker (Amazon)
and purchased it December 2012.
It has gotten a lot of use over the last 3 years and has produced some amazing smoked meats. I didn't have to focus on maintaining a temperature and could turn my focus to the perfect rubs and sauces. Even though it had a thermostat and could keep a pretty constant temperature, I still had to add wood regularly. It wasn't bad but I wanted something even easier. But, I didn't want to spend a bunch of money on a fancy smoker with auto loaders or anything like that.
After a lot of reading about the A-Maze-N products, I finally decided to take the plunge and give one a try. I had read a lot of people using them with my exact smoker. I also saw the creator of A-maze-n responding to questions and helping people in different forums. He even offered to talk with people night or day to help them with his product.
I did a test run of the A-Maze-N AMNPS 5×8
on Monday night. To my dismay, I couldn't get it to stay smoking inside my smoker. Others have had some success and still others have had problems.
Rather than try to troubleshoot, I took things a step further. I had seen a lot of people talking about a mailbox mod for their Masterbuilt smokers. People were saying it was the best thing they ever did to their smoker.
So, off to Home Depot I went. After about $65, I had everything I needed. This included some cinder blocks to raise my smoker up a little.
As you can see from the photos, I have a black mailbox sitting under my smoker. I drilled a hole in the back and then used a jig saw to cut a circle for the tube to fit into. I then used some foil tape to secure it in place and cover up the cracks. I also drilled 2 holes in the front of the mailbox and 1 hole in the bottom of it just inside the front edge. This was to help with airflow and keep the AMNPS going.
I ran the tube from there to the hole for the chip loader on my smoker. I also removed the chip tray from inside the smoker as well.
After letting it run all night, I checked on it in the morning and was happy to see that just about all the pellets had burned. Since I was sleeping while it was going, I'm not sure how long the smoke went for. I had it going a couple hours before bed so I knew it burned a while.
All in all, it was a pretty easy mod and will make smoking some delicious meat even easier. I plan to smoke a brisket this weekend. I also have a pork belly curing in my garlic cure and will cold smoke that next weekend.