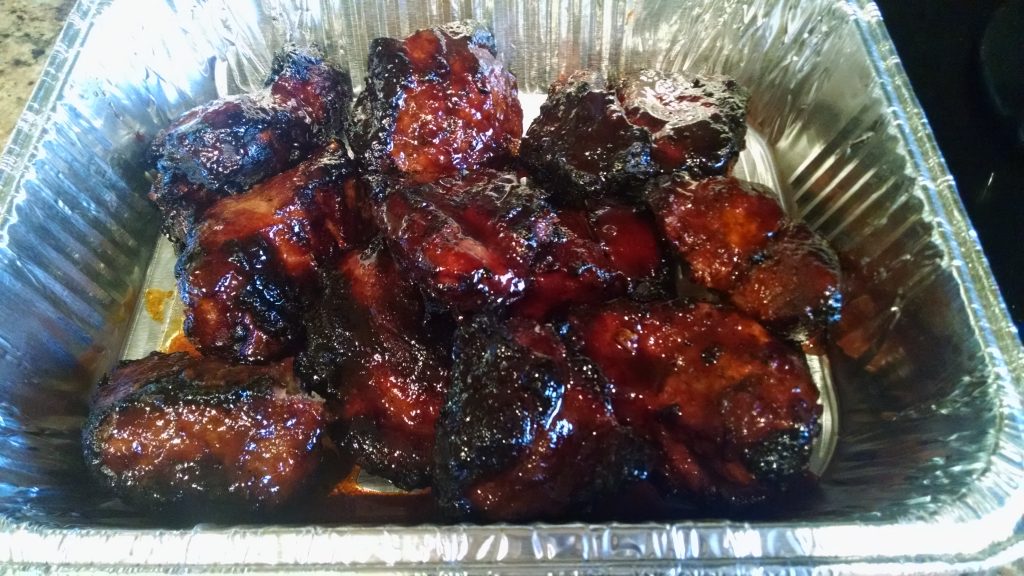 I'm a big fan of good Pork Char Siu but it is sometimes hard to find. I love going to China Town and picking some up. I really wanted to make this at home and looked at as well as tried a number of different recipes. After some experimenting, I came up with one I really like. I also kicked it up a notch and made Bbq Pork Char Siu using my Webber and a large pile of Kingsford Charcoal.
To make, start with a 4-5 pound pork shoulder and cut it up into chunks.
Next, combine all of the sauce ingredients in a bowl.
Put your pork into a ziploc bag and pour half of the sauce over the top and let marinate overnight. Save the other half to use for basting while the pork is on the grill.
Setup your bbq for indirect cooking (coals on both sides) and put a good amount of coals so you can get the temperature really hot.
Once your coals are ready, put your pork down the center of the grill (with the coals on either side) and let it cook for 20-30 minutes. Then flip the pork over and brush with the sauce that the pork was marinating in. Be sure to put the brush into the sink when done as you just used it with raw meat.
Cook for another 20-30 minutes. The pork will get a few little burnt looking spots but it shouldn't be charred black.
Use a clean brush and baste the pork with the marinade that was set aside the day before.
Let the pork cook another few minutes to get that last basting heated up.
You are now ready to eat your delicious Bbq Pork Char Siu!
Sauce Ingredients
1/4 cup brown sugar
1/4 cup honey
3 teaspoon salt
1 teaspoon five spice powder
3 teaspoon smoked paprika
1.5 tablespoon dry vermouth
1/4 cup dark soy sauce
1 teaspoon sesame oil
2 tablespoons hoisin sauce
3 tablespoons tomato paste
1 tablespoon olive oil
3 cloves minced garlic
3 tablespoon hot water